Wrapped Wishes Gift Card Bucket!
What a great way to say Happy Holidays to a special person than with a gift card (or other small sized gift) presented in a beautiful way! I had so much fun working with these awesome papers from the Wrapped Wishes collection by Daisy Bucket. I loved the nontraditional Christmas colors, the super cool paper texture and the fun designs.
http://www.daisybucket.com/lines/wrappedwishes/wrappedwishes.html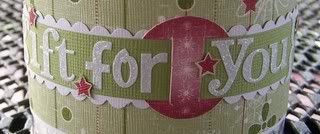 In fact, this month I got doubly lucky, because I received these amazing papers and fun embellishments in an amazing kit... from
http://www.scrapdango.com/
It's their December kit, you should check it out!
I made this gift card holder, "a bucket of fun", with the papers, ribbons and tag elements! I added a little bling, some cool glittery letter stickers and a star and here is the finished product.
But the most fun part of all was working with the Daisy Bucket RIBBON ELEMENTS!
http://www.daisybucket.com/ribbonelements.html
I love working with this paper ribbon, so versatile and different from any other product out there. Here are the ribbons in all of their shredded and curled glory.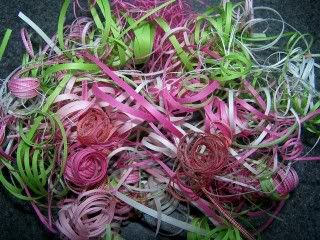 I cut one yard lengths of pink, green and off white, pulled them apart into skinny pieces, then curled them with a pair of scissors. They make an festive and colorful filling for the inside of my bucket.
AND, the ribbons also make a fun embellishment to add to the handle... with a star hanging from them.
Thanks so much for looking and Merry Christmas!
~ Dana DiGennaro
posted by Dana D at
8:11 AM
0 comments